Hello, hello out there!
Is anyone out there?
Eh, how would I know?
I am dying to break my way into the foodie blogger community, so what better way to wiggle my way in than to participate in my favorite, weekly, blogging event?!
So here it is! MY VERY FIRST "WHAT I ATE WEDNESDAY"!!!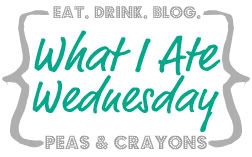 Please excuse the over-enthusiasm, but I really have been dying to jump in here for weeks now. Yay!
I was lucky enough to have Monday, Tuesday, and Wednesday off of work, so I took to opportunity to head home for a few days one last time before fall quarter starts. Luckily it's easy for me to keep up my preferred eating style because I have parents who are supportive and who keep a pretty low-meat and healthy diet themselves.
After a handful of walnuts and a 2 mile walk with mi madre, breakfast was enjoyed out on the deck.
Oats cooked with strawberries and topped with lots-o-cinnamon. Side of green tea.
Demolished.
As always, when I make the trek back to Cincy, we had to do a Costco trip. All my faves in bulk? Yes, please!
The haul: multigrain crackers, flat outs, grapes, hummus, carrots, tomatoes, pasta sauce, and salsa. Oh, and some math teaching aids on the side.
For
lunch
, we headed out to Hyde Park to meed my broski and his girlie at
Arthur's
, a great little diner with a gorgeous patio out back.
Mama Lou making her approach.
Perfect patio-eating weather.
Greek salad, hold the feta, with oil and vinegar on the side. Veggie awesomeness.
After lunch, it was time for some quality mother-daughter shopping time. I had a great day hanging with madre, and it culminated in the most exciting even of the day…
Duh, duh, duh, duuuuh!!
MY VERY FIRST TRIP TO WHOLE FOODS!!!!
The loot: Puffins x 2, puffed kamut, larabars, earth balance, rice cakes, sunflower seed butter, Amy's soups, spaghetti squash, oats-in-bulk, tofu, and some unpictured kale, cucumber and zucchini. Ah-may-zing!
We made it home in perfect time for me to cook dinner for all of us. My dad especially likes it when I cook, and I make sure to cook at least one meal for them every time I come home.
Roasted potatoes and onions; broiled, marinated portabellos; mixed green salad.
Dessert: toast (heel of the bread/my favorite slice) covered in mushed, over-ripe banana and sprinkled with cinnamon. The only sweet, vegan option I could find, and boy, was it delicious!
It was a great day! And I am so happy to have been able to share it all with you in my firs WIAW post. I can't wait to do this all again next week… during the first week of school, yikes! Luckily, I shouldn't have to go grocery shopping for a few weeks. Thanks to my mom footing the bill on all of my green purchases today. Thanks, mom!
And to go with all of my great purchases today... Check out the 'rents's newest green purchase. It found another little hybrid friend to hang out with while madre and I were shopping :)